Hello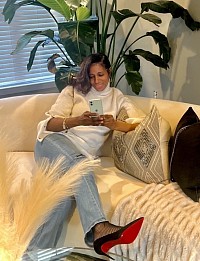 Designer Sam Jones is the owner and principle designer of Sam Jones Design - A full-service event and floral design company. She provides aesthetics for special events, focusing on transforming event environments. Sam is a graduate of The Fashion Institute of Technology and has a background in visual display, having worked with several major retailers. She lends her background in fashion to the overall vision of her company.

Sam Jones and her team demonstrate captivating floral artistry and exquisite event design styles with an impeccable touch for clientele of all genres. The designers work extensively to ensure that your event is a perfect match to your individual style, personality and tastes. During the concept meeting, designers listen to your desires and ideas so that your event is reflective of you. The company is committed to producing events that are simply
"So Chic."

Sam's extensive portfolio includes: visual merchandising, commercial & residential interior decor, weddings, special events & floral design.